We are original recyclers here, as it was, and still is, the economical and ethical way to help ourselves and the environment. If you want to return your egg cartons, honey jars, plastic bags, baskets, and wooden pints, we can find uses for them. Sherwood Farm encourages you to try and tread lightly, like we do, on Mother Earth. Be on the lookout, too, for reusable bags when you come for a visit.
Special Event
You may have noticed all the unusual activity this past winter and wondered what was happening here. Well, we are excited to announce that a film was produced here, The Witches of Oz! It is a modern day interpretation of the familiar classic, The Wizard of Oz. Natasha Sherwood was thrilled to be given a small non-speaking role. The movie is due out in this summer, but a sneak peak of the movie can be seen via this link: The Witches of Oz 3D: First Look.
Please mark your calendars for our new
2011 Seasonal Events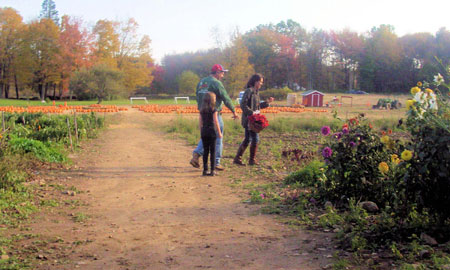 There seems to be a never ending list of activities, at least for us farmers. But high on our to-do list is to give thanks each day. We never forget that.